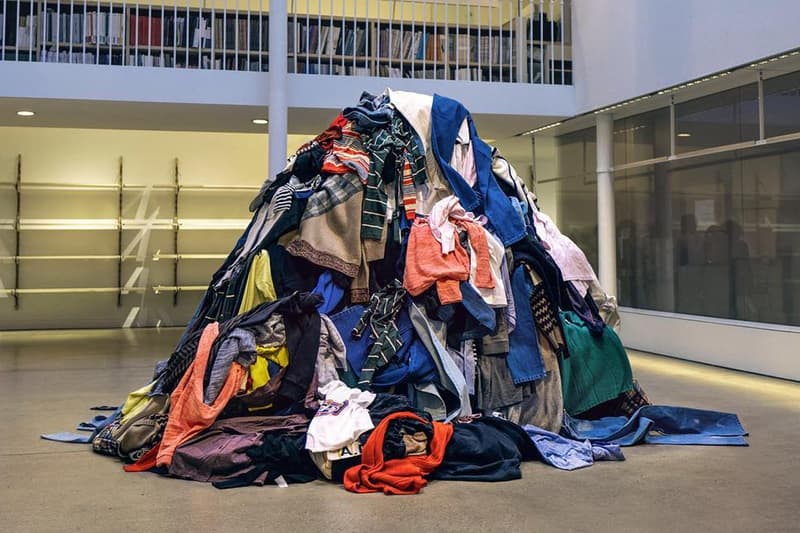 While it's been well documented that the rise in fast fashion has had a major impact on the current state of unnecessary mass production, we as consumers should be held equally as accountable. According to a recent study, consumers across the United Kingdom alone currently have an estimated $46.7 billion ($64.7 billion USD) worth of unworn clothes in their closets — and we are throwing away, as opposed to recycling, around £70 worth of garments every year.
Some companies are making small steps in the right direction: in 2019, Zara and a handful of other labels promised to ensure their clothing would be 100% sustainable by 2025, while H&M have teamed up with Héctor Bellerín to champion its new and more ethical approach to product.
But in a recent interview with HYPEBEAST on sustainability as a whole, industry figures acknowledged that the ongoing pandemic had catalysed an acceleration of change, but that it was too soon to say if the industry had progressed to a better place.
As companies continue to tweak and adjust the way they conduct themselves, a handful of labels have been leading the way when it comes to focusing on sustainability for a while with sustainability-focused buy-back schemes. In a table-turning scenario, brands are now offering to purchase old and worn products from its consumers, which they will then upcycle, if required, and resell at a discounted price. This not only reduces waste and mass production, but ensures neither consumer or brand are out of pocket.
As the industry balances on the brink, HYPEBEAST highlights the brands utilising this "recommerce" approach and thus setting an example that others will hopefully soon follow.
Arc'teryx Used Gear
Initially launched in 2019, Arc'teryx Used Gear is the Canadian brand's buy-back and resale program, which aims to extend the life of all its products. The idea is that used Arc'teryx garments that are either damaged or no longer used would be sent back to the brand by customers in exchange for credit towards a future purchase. Arc'teryx would then revamp said product and sell it for a heavily discounted price on its Used Gear webstore. While this approach not only gives the average outdoor enthusiast the chance to buy a high-end jacket for a lower price, it also proves highly sustainable too.
Find out more about Arc'teryx Used Gear here.
The North Face Renewed
After linking up with The Renewal Workshop in 2018, The North Face made its work with upcycled clothing a permanent fixture later that year. Dubbed 'The North Face Renewed', the label focused on repairing and upcycling defective or returned products to a nearly-new state, to sell them at discounted costs. While outerwear is the brand's most sought-after apparel, shirts, pants and more are regularly on offer, with little or no difference to a full-price piece. What's more, all garments that can't be refurbished are used in the brand's REMADE collections.
Shop the recycled goods on The North Face Renewed website.
Patagonia Worn Wear
Patagonia has been operating its 'Worn Wear' line for a number of years now, yet it wasn't until 2017 it became a permanent fixture in the brand's arsenal. The premise of the scheme is to allow consumers to purchase, trade and sell their used Patagonia garments in a bid to reduce wastage. What's more, the brand also welcomed those interested to visit a local store where the team would take a look at the garments and even wash them if needed. Four years on and Patagonia Worn Wear is as popular as ever having sold more than 120,000 refurbished items to-date.
You can find out more about Patagonia Worn Wear here.
A.P.C. "RECYCLING"
First launched in 2018, Paris label A.P.C.'s "RECYCLING" programme does exactly what it says on the tin. Initially rolled out in the U.S., before expanding into Europe a year later, the Jean Touitou-led brand allows customers to return old A.P.C. product in exchange for store credit, with the amount depending on the garment's condition. Unlike other brands, A.P.C. does not repair its pieces: instead, it ships them to a recycling facility to be broken down into fibers and re-used in new garments.
Find out more about A.P.C. "RECYCLING" here.
Levi's SecondHand
American denim company Levi's is the latest label to take the next step in an effort to be more eco-friendly. Launched late last year, Levi's SecondHand is a platform to trade in old denim pieces in exchange for a gift card, before the products are cleaned and upcycled and paraded on on its all-new webstore for a heavily-discounted price.
TROVE, the E-commerce tech start-up, was brought in by the brand to facilitate logistics and backend operations for the program, with its CEO, Andy Ruben, at the time emphasizing how implementing an infrastructure for second-hand clothing was "the single biggest move" that a supply chain could embody for better sustainability.